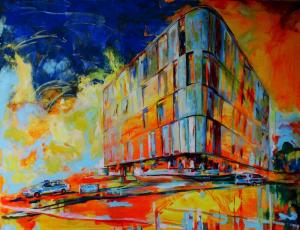 Koro will be exhibiting her paintings at the Kreispolizeibehörde (Police Headquarters) , Adalbert-Bach-Platz 1, Mettmann, Germany from Friday 13th May until Friday 1st July 2016.

The exhibition includes landscapes of the local area, portraits of German celebrities from Mettman along with various other landscapes and portraits

The exhibition will be open on week days during normal office hours and by prior arrangement at weekends.

The opening takes place at 19.00 (7pm) on 13th May and will be by invitation only. If you wish to attend the opening or have any other queries please contact the artist using the contact form on her Fine Art America webpage.